April ended on a successful note! Indeed, Jérôme Rombaut, one of the creators of Funbridge who is also in charge of Argine (i.e. the AI playing with you), qualified for Team France and will thus take part in the next European Bridge Team Championships to be held in Budapest, Hungary, from the 16th to the 26th of June.
Click here for full information about Team France
and the upcoming international events.
From left to right: François Combescure – Thomas Bessis – Frédéric Volcker – Jean-Christophe Quantin –
Cédric Lorenzini – Jérôme Rombaut
May news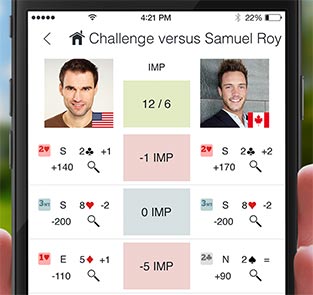 Back to the previous display of the challenge results
Following the recent update of the app, many of you complained about the new display of the challenge results, emphasising in particular the considerable lack of readability on the screen.
This is the reason why we have decided to get back to the previous result screen in the next version of the app, while keeping the lead display.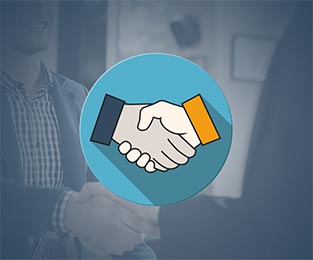 Let's become partners!

You are a member of a bridge club, you play Funbridge and you want to get discounts, prizes for your club tournaments, New Year's gifts and much more?
Nothing could be easier! Get in touch with your club manager and ask him/her to contact us using this form.
Funbridge already has partnerships with more than 110 clubs. Why not yours?
A new article by Jêrôme

A new article written by Jérôme Rombaut and published in the magazine Le Bridgeur in January 2015 has been posted on the blog:
Enigmatic variations: "The following deal from the Team DN2 is so nice that it would have deserved to be played on Funbridge and it cost me promotion to DN1!" Read more
Stay tuned to get the latest Funbridge news!
Have fun playing tournaments on Funbridge!